Busy Weekend...
It started on Saturday with a visit to the
Ancient Lotus Pond
(
古莲花池
), first started in the 7th century during the Tang Dynasty. After being ransacked by the British, French, Germans, and Italians at the end of the Qing Dynasty (early 1900's), it was rebuilt to match the ancient style. There are many pavilions, a stele from 740AD, and many huge lotus leaves in the middle. I actually have no clue how many hours I spent in the park just wandering around.
I met an English teacher from the university and two students for dinner at a restaurant in another park, overlooking a pond. It was a beautifully warm night, and the food was excellent (except for the bitter melon which I'm not a fan of). I even loved the sticky black rice, which looked less than appealing.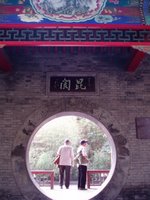 I was out all Sunday, getting groceries, visiting friends, and eating (China's pastime, along with playing pingpong). In the evening I went for dinner with some Chinese friends at a cool restaurant that was done up with old communist stuff (Mao posters, red stars, and waitresses dressed in mock military uniforms). Amongst the dished I had one of Mao's favourite, which I nicknamed the "Mao Burger". It was pork in a sauce, eaten on a steamed bun. I loved it, though it was quite fatty.